At last, there is someone who is kind enough to accompany me to break fast which was yesterday after work. And she is Shida. Ok, thank you so much. We went to Lucky Plaza again to eat my favourite Fried Fish Bee Hoon again. Again! Yeah, I am obsessed with it. Their last day is this Sunday instead of Saturday. Maybe, I am going again. Ooppss, pardon me if I am so irritating. Here are some pictures which we took at office, at town and on the way home.

The time in the office was slow like the tortoise.
I got nothing to do at home, all alone in my room. I am going to sleep soon. But first check what I did 15 mins ago and what I used to do when I was a little kid; I love to play with my ABC biscuits. I will search for the letters and make my name, eat it slowly and feel satisfied. What to do? My siblings were busy with their own stuffs, bf/gf. Dad was out working. Mom busy teaching her friends to learn how to sew. She was a well-known seamstress; she will sew for me and her friends. Poor Me. I will either play alone or play with my neighbours. Walt Disney, Looney tunes cartoons & P.Ramlee shows entertained me. Other than that, I will play with my own toys or do my homework. I still remember those days when I play as a teacher to no one – talking to the air, play as a doctor to my cat, i belief he was irritated by me, poor cat. Hahah..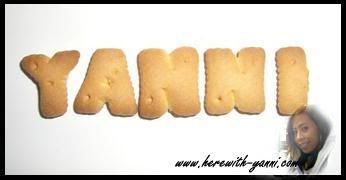 I should have taken pictures of myself and the food for the past few days when I break fast alone. So nice to see Faddy's family break fast together. I am so sad again
feeling all-emotional. Ok, today mom is cooking Mee Penang for me. I can't wait. The time seems to be slow since yesterday. I forgot to pray subuh this morning, as I was exhausted just like my cat, Bulat. I slept at 10.30pm and got up at 4.20am for Sahur. Ate little bit and continued sleeping. I think it's the medication I took last night. I am still feeling so tired and drowsy. So I will have to pay back my Prayers after work.
I will be going to Lucky Plaza tomorrow with Shida, to eat my favourite Fried Fish Bee Hoon. Maybe I will want to buy Famous Amos no-nut chocolate chip cookies. And maybe shopping! Cos it's payday tonight! Yahoo.
I have not meet Teni for 4 days. I am missing him like mad. He have to pray terawih and by the time it finish, it will be too late for me cos I am working the next day at 8.30am. I will be blogging a few times a day for this Ramadhan to burn away the time in my office, which is dragging like a water buffalo. (I smell KFC chicken.. Oh No!)
Teni, please remind me about the Portugal jersey.
fi yuo cna raed tihs, yuo hvae a sgtrane mnid too Cna yuo raed tihs? Olny 55 plepoe can.
i cdnuolt blveiee taht I cluod aulaclty uesdnatnrd waht I was rdanieg. The phaonmneal pweor of the hmuan mnid, aoccdrnig to a rscheearch at Cmabrigde Uinervtisy, it dseno't mtaetr in waht oerdr the ltteres in a wrod are, the olny iproamtnt tihng is taht the frsit and lsat ltteer be in the rghit pclae. The rset can be a taotl mses and you can sitll raed it whotuit a pboerlm. Tihs is bcuseae the huamn mnid deos not raed ervey lteter by istlef, but the wrod as a wlohe. Azanmig huh? yaeh and I awlyas tghuhot slpeling was ipmorantt! if you can raed tihs forwrad it.