Sep

4
Posted by Yanni at 1.11PM (0 views)

Enter your password to view comments

Comments
We went to Lucky Plaza to eat my favourite Fried Fish Bee Hoon, yummy. I can't get enough of it. Have you all try it? Please go and try before 7pm. Then we headed to Cathay and watched Love Wrecked.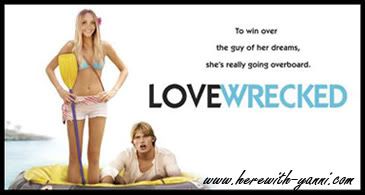 The story is ok (look at my face, just imagine – ok…) I did laughed a few times but the overall story was cock. Better than nothing right on sunday night. Oh no, back to work again.
I am going to get this for my next payday. With the C.Ronaldo at the back. If can, the real C.Ronaldo at my back, tagging me wherever I go. Instead of me tagging him If I ever get to be by his side one day. (dream on) I spent too much this month.
Shalina is legally 21 now, so she can do whatever she wants. But please don't go around killing. Congrats on your academic excellence too. Hope you will get in NUS next year since this year you can't. We took some pictures last night. (Please, if you all know why I can't upload a picture with normal size here, tell me.. Be kind and helpful =p) The gathering was fun.

Click Me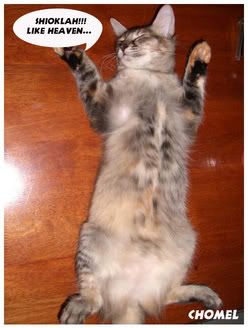 look at how my kitten sleeps.
Ok! This image is not an upload from the Wordpress. I don't have any idea why each time I tried to upload an image, the size was so small like a stamp on a postcard. And since no one wants to offer me help (sulking/grumpy), let me just use the photobucket. What a waste of $! I thought I could make it but I am dumb! I don't know what is widgets, pings, and how the theme editor works. So sad. Its sad. Its a sad sad situation..
Today 3 clients refused to co-operate and they were nasty with me. What a Bad Day! But don't worry, I got back at them. They got no choice, they need me. I told them screaming at me won't solve the problem and if they continue to do so, they can use other media who are able to accommodate with their ridiculous requirements. Enough said about them.
Promote your service (individual/ corporate) in http://www.88db.com.sg and you will stand a chance to win a gadget or a pair of movie tickets. Sounds Lame? But don't tell me we should give you a car or a house with swimming pool?