Question 1: Would you dare to ask someone who is not close to you or your boyfriend to buy a birthday gift for your boyfriend? Let's say that someone need to contribute $150 cos you want to buy PS3 for your boyfriend.
Question 2: Would you force your colleagues to plan on what to buy for you on your birthday? And you will set a budget and who to contribute.
Hahah. Wierdest people around me. So hardup and so not shy. You want to know who??? Better not reveal cos who know that someone is one of my reader, uninvited reader. I don't mean anything but I just find it embarrassing to demand such things from people whom we are not close. It's worst if we hate someone, we expect him/ her to do such things for you. Hypocrites, Pretender, Backstabbers… I despise them! They are the biggest idiots in the world.. Cos they don't realise that nobody likes them.
And I won't forget this sentence – "Can't you see my fakeness?"It was mentioned by one moron in front of so many people behind my back, as soon as we left their place for Hari Raya. And after we shake hands and seek for forgiveness. You know lah, the formalities during Hari Raya. It's to forgive and forget, but you got to have the intentions, clean heart. But I didn't expect that they were pretending when I am sincere and dislike pretending. It's embarrassing and I won't forget what they did to me. Yes, someone nice informed me and I trust that someone. This isn't the first time they did to me.. Too many times until I am so sick of it and I gotten used to it.
To the extend they even tried to ruin my relationship by accusing/ purposely made up a story of me and another guy… What to do? Lucky, my boyfriend trust me.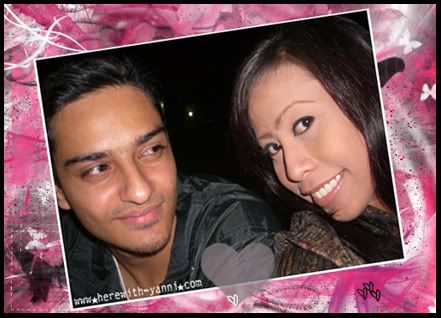 "One-way love is hard to do, but my heart doesn't know how to stop loving you."
My pay is coming! Keep the cash rolling in! I need to do lots of shopping! Time for good food! New look! I want to go to Vivocity! Holidays!!! Year End Sale in Malaysia – Here I come!!! Time to go broke one week before payday!!! Yeah. Beaufort here I come…
"Wadafark!!!" – Tomorrow is Monday. No mood to work, No mood to answer any calls, Nehi Mood for all this!!! Do you all have the mood? My boss will be farking worried cos no one has the mood to work our ass off for the sales.
I hope my hair will turn out fine when I cut the fringe like hers. I love her smile. She is so sweet and cute. Also, I will be gone for while.. Not too long. Maybe after the 3rd of December, I will update again or maybe I will pop out again tomorrow or the day after tomorrow… Hahaha! I don't know. I can't decide.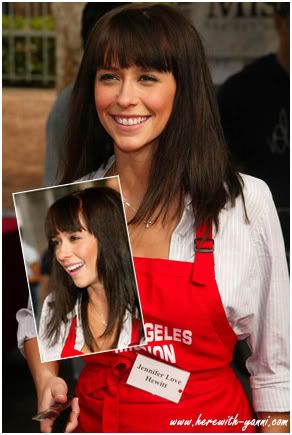 For your information, I have not smoke for 2 days, but I already got the urge to smoke now…. Oh please, it's that so difficult!!! What day is tomorrow??? I hate it man!!!
I will be going to Beaufort Resort at Sentosa on the 1st and 2nd Dec for Family Day. Well, it's suppose to be at Bintan or somewhere outside Singapore or Cruise to nowhere. And we were suppose to go in July. But after so much discussion, votings, since its going to be 2D 1N, don't waste your bloody time, just go somewhere near but a place which JobsDB can go broke.. Hahaha! Fun thing is its break time and everything is fully paid by JobsDB. Boring thing is the committee draw lots who will be in which team. Oh No, the results were quite disappointing. However, let's hope that everything will turn out fun.
Visit one of my mom's friend last night. And saw two of my used to be my cats. They were so cute and I really missed them.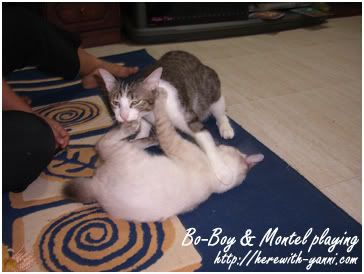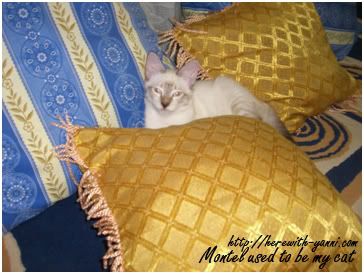 Aha… I have to blog about this one too. I went to Cafeela – Jalan Kayu around 2 am with Teni. You all know that Singapore was raining the whole day yesterday. It was cold and we decided to have Tom Yam Chicken Soup with the button mushrooms… Yummy. Damn it Cafeela. They gave us Tom Yam BAWANG BESAR SOUP. I can count the Big Onions – it was like a ping pong ball which was not cut. There were like more than 5 in it. The chicken looked like garlics – which weren't cook at all. WTF! Teni called them and I told them off.
***"Cik, ni Tom Yam Ayam ke Tom Yam Bawang??!!!" "Ayam dia dah macam garlic, tak masak. Kalau suruh tukang masak tu makan, dia nak?!" "Saya tak nak makan, Saya tak akan bayar dan tak payah bagi baru punya!!!"
***They took it back but brought the same old one to us and told me – "Mana ada apa2? Boleh lah ni?" So I told the uncle back, "Cik kalau nak, cik makan lah, ni bawang tak potong, ayam dah tak masak, bagus ke kasi orang makan macam gini nye makanan!" The uncle answered me back with an attitude fucked up face, "Yelah…" And I answered him back "Huh, yelah, banyaklah punya yelah"
Teni went to pay for our drinks; they still dare to charge us the Tom Yam! Not even an apology but still dare to charge us! Teni refused to pay and the owner shook his head. I shook my head back at him and I snapped a picture of their shop. I am sure they were a bit scared, mana lah tahu budak ni reporter ke apa ke? HAHAHAH!!!! Amek kau pakcik! Aku bukan reporter tapi aku blogger. I will never come to this DAMN it Cafeela at Jalan Kayu. The business won't last if they continue doing this! Dumb Ass!
Ok. I am sorry it's in malay. I have translated it for you.

"Uncle, Is this Tom Yam Chicken or Tom Yam Onionsss??!!!" "The Chicken looks like garlic, it's not yet cooked. If I asked the Chef to eat, will he eat it?!" "I don't want it, I will not pay for this and do not have to replace for a new one!!!"
***They took it back but brought the same old one to us and told me – "Where got, can lah like this…" So I told the uncle back, "Uncle, if you want, you can eat it. The onions so big and not cut, the chicken is not cook and is it good to serve this kind of food to your customers!" The uncle answered me back with an attitude fucked up face, "Yelah…" And I answered him back "Huh, yelah, banyaklah punya yelah" Hmmm… I don't know how to translate the ones in pink.. Figure it out yourself… Tomorrow is Monday!!! Oh No!
Nov

11
Posted by Yanni at 3.44AM (2 views)

Enter your password to view comments

Comments