Dec

31
Posted by Yanni at 11.52PM (19 views)

Comments Off

Comments
I love 2006 so so so so much! Pray To Allah that 2007 will be a better one!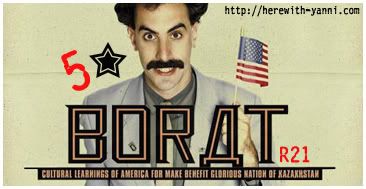 30th Dec 06 – That's not the end of it. I got a movie date at 1.10am with dear Teni at Plaza Sing. By then, I was shagged!!!! We enjoyed the retard movie. We Loike you! You loike we? Hahaha. Don't miss it. The whole theater were laughing non stop. But ooppss of course " only those whose above 21 can watch it.. The rest can try their luck..
Visit – My Name is Borat or I love Kazakhstan
—————————————————————————————-
29th Dec 06 – With the non-stop rain, I dragged myself to work on Friday. We start at 8.30am every Friday. In order to reach on time, I need to get up at 6.30am. I snoozed my alarm clock for like 6 times until my mom called my handphone (as if she can't come in my room to wake me up – Why? Better not disturb or irritate me early in the morning. Danger Zone!!!). Like finally, I woke up with my eyes closed at 7am, got ready in 35 mins! But I need to take a cab to Yishun MRT. $5.30 – I must stop it!!!
Dec

30
Posted by Yanni at 6.57PM (0 views)

Enter your password to view comments

Comments
Dear All, welcome to a new page – http://herewith-yanni.com/?page_id=199. (Page will be updated with more gemstones) Do give him your support. Anyone interested, please do not hesitate to contact him. No obligations.
For all – Any designs – Into any accessories – For any occasions
I knew it right from the start that these 2 bloody idiots (husband & wife) ganged up with each other to ruin my relationship. Remember I ever mentioned that she and the husband said that they saw me at Causeway Point with another malay guy this year infront of my boyfriend at their house.
Bullshits! I knew it!! Damn It!! A colleague of mine just came back from maternity leave. We both updated each other about so many stuffs. But mainly, it's about her. She told me that this story was long time ago. Actually, the wife was the one who saw me and my ex fiance 2/3 years ago and she was jealous that I am now with Teni, a happy girl and doing well. So she told the husband to bring up this same old story but and an edited version to ruin my relationship. Fat jerks! Fat Ass! Hati Hitam. Muka Hitam. Hati Busuk! Aku benci korang!!!
Edited
So many of my colleagues were on leave. All the Managers were on leave. So many of my clients were on leave. Slack day. JobsDB should not open today!!! Wasting everyone's time at the office today! I am feeling so bloated. It's my pms. I don't feel like doing anything but just sleep. Goodbye Makcik, Pakcik, Nenek, Datuk, Cucu, Cicit..
I hate pms!!!
1.Are u photogenic?
Hahah.. Yes.. (Perasan, takpa!)
2.What time do you go to bed?
Before 12 am for weekdays. Anytime I like during the weekends.

3.What was the last thing you did before this?
Fighting.. (So not sweet but its fun and hilarious)
4.Who's the one you always meet the most?
My family and Teni
5.Who's the person you'll call if you need help?
Mom or Teni.
Everything has end I assumed.. The latest tags were funny and I cant be bothered anymore.. Let's just take it that everything is now fine.
Edited Entry (25th Dec 06)
Ok.. So Midget has deleted all their irritating tags and together with my vulgar tags. What make them do so in the first place? What makes her delete their childish tags now? And why her boyfriend asking me to stop from now on? I am not a wee bit scared of him or them?! It's them who started every single thing and now he wants me to stop without any apology! Go to hell midget! And midget, I had never told you that Ayu is the one who gave me your number! And you dare not ask me that question! It's you and your clan's stupid moron childish work, and now you are like blaming her for it. What an arseholes! If you are all good friends, you will never give her troubles in the first place. And you will think of the consequences before doing something. Obviously, you all are pest and childish. Stand up for yourself and stop asking others to stand up for you/ warn me..!!!
This is her disclaimer. Look who's talking now! You don't even come to my blog in the first place but to Ayu's tagboard to diss me. And when I called your handphone, you don't even dare to talk it out with me! You are pure nonsense!!! It's pure shame to have ppl like you!
"This blog is solely mine. I don't care if people i know or do not know read my blog. It is a public blog and i do not intend to limit viewers. But however if you have anything against me, PLEASE do not be a coward and express it by posting nasty comments on my tagboard, it is pure eyesore. I will be willing to talk/fight it out with YOU if you contact me. Constructive comments are welcomed."
THIS MIDGET AND THE CLAN SERIOUSLY LOVES TO DRAMA
Hari-Raya lah, aunty lah – Each of them drama by Midget. Now, the story has twisted to dunno where and I wonder why. Still her friend and myself know it's either one of them. Look friend give trouble to another friend. Merepek ar korang – korang nak address aku. Aku dah kasi kan sial.. Tagboard – siang2 aku dah kasi.. Perangai cam musihbat!
———————————————————————————————————————————-
Posted on 24th Dec 06
Hi all of you who is in blogging world. Please be reminded – Anything got to do with designs or html codings, please don't forget to credit to Miss E. Please credit where credit is due! (Kakak dia ajar sama dia – oh salah, clan dia nye rules) Make sure k else dia kecoh!
For you my dearest midget. I miss your stupid and stammered voice on the phone. Wanna do it again? I wonder how you twist your pathetic story to your clan and the kpo ppl around you… But that doesn't matter to me. I just hope through this, you can learn not to be shallow or kpo and mind your own business. Don't be like an idiot. And when you want to compare yourself with someone else. Look at yourself first… You are not even an average looking betina. So wake up and slap slap slap your face before you throw your stupid and not funny sarcasms at each of your blogs. Robin Hood lah, pirates lah – nenek lu lah midget!
I know I ni melebih dan tak penat, I am like that when you provoked me especially when I am not in the wrong. And it's super funny but irritating bastard, cos I don't even know you neither am I close with your bestfriend or your foe (but thanks to you we are going to be close like blood sisters macam kau nye clan. Tapi ni clan mulia tak macam korang – pest!) And to go against me for something stupid, you are so pathetic betina (used in malay to call a female animal) But I will stop when I penat k, tak kan I gila macam si betina gila tu. Cuma fun bila maki betina yang otaknya cetek (shallow).. Like an uneducated betina.. Takmu lah macam gitu lagi, memalukan tau. Hey come on, I gave her FAME for this 2 days in my blog. She should thank me you know…
My boyfriend is looking for a buyer to carry on his 2B bike. He is super good in taking care of his bike. He sends his bike for servicing for every 3 months. Before he decided to sell his bike which was only last night, so many of his friends has been pushing him to sell it to them cos they couldn't find a good KR. For those who just pass their Class 2B. For those who likes KR. Interested, email me at yanni1107@hotmail.com.
Help me circulate this ad to your friends.
- Downpayment – $1000
- Carry on monthly instalment for the next 2 years – $115.00
- Stock Condition
- Just sent for servicing on the 23rd Dec 06
Teni always send his bikes for servicing at this shop. Among all bike shops, this is the best. He does everything perfectly and he will service like his own bike. He will take good care of it and will never cheat you unlike most of the Bike Shops in Singapore or JB. He doesn't overcharge his service/ bikes too. He is friendly and crazy. His name is Ah-Chong. He is an honest and reliable man.
Surprisingly, my viewership increased and some of them even dropped comments, giving their honest and fair views. Thanks sweetie cutie lil pies.. And Anna, I salute you – Kau nye latest entry very the Ouch!. Tu Midget mesti tengah membakar.. Alamak lu midget, aku lurp sama lu sampai aku takleh tinggal kan kau nye blog. Aku pyscho stalker. I don't give a damn shit to you and your clan even if I don't have anyone standing behind me. I will still be your nightmare mother farker. Kepada kesayangan midgetku, aku tak leh angkat dengan kau and kau nye clan nye perangai. Satu – satu perangai cam budak2 SIAL!!! Kalau korang hati pedih aku buatkan blogskin untuk korang nye musuh, jangan lah babitkan aku sekali sundal.. Aku tak bersalah siul. Dalam segi undang2 – aku tak SALAH sedikit pon.
Added Entry from 24th December
Till we meet outside and have fun baby midget smoochie lil robin hood pirates kau punya penyapu lidi.. Parents kau tak cukup ajar sama kau sebab tu kau tak matang sial. I demand an apology baby. Tukar lah password – tukar lah domain – aku tetap dapat track kau.
u deleted the tags in your tagboard, u so the tak tau nye malu nye pompan.. dah cari pasal dgn aku, then tak tau nak finish the game dgn aku.. here it is biatch! Its not edited. Thanks for the sweet memories stupid midget!
Excuse me peeps, pardon me for this entry. It's not for any of you but its dedicated to someone who dare not reveal his/her identity and provoke me in someone else's blog!
Hey Blogger Hi Blogger …. (in the most retarded way)
I am like waiting and in the same time, I am giving you the bloody encouragements to have the guts to drop comments in my site. Reveal ur identity lah sayang, jangan lah pakai nickname as Blogger..
Kau dah macam budak2 nak cari pasal dgn aku pasal blog. Kau obsessed sangat apasal sial! Can I like check with you whether you are the one or Miss E is the one who created HTMLs and is there such rules that HTMLs is only allowed for shallow ppl like you..
Lain kali duduk diam2 baca je blog orang, takmu banyak berbual k… Jangan lah suka cari pasal dgn orang yang tak cari pasal dgn kau!
Editted Entry
I am sure all of you must be wondering who is this midget. Her Name is Yati. Well.. She strongly – confidently belief that I copied her so call design. To be frank, I asked Ayu for her HTML template cos I need to do Shida's blog. I spotted my mistake upon checking her template and from there I am on my own and also with the help of tutorials. Anyone can come up with a simple layout. But this pukimak who got nothing better to do and dare not reveal her identity did something childish. She tagged at Ayu's blog, dedicated to me. Her nick name is "BLOGGER". Well, she got bird brain. Go and read Ayu's tagboard. Flooded!
And so I checked this farking midget's blog and read her conversations. Referring to me. Go and read her blog – I am so ugly and shallow, I wanna cry and now I am going to report to the police... I am not afraid of what ppl might think of me. Cos at the end of the day, blog is for everyone. Blog designs and HTML is free for everyone to use. Farking childish! Go to www.blogskins.com – so many of them and none of them behave like her. Most of them are much younger than her but they are not farkin childish or shallow like her! I even have a blogmate who is a webmistress who is not selfish with her superb knowledge. And whatever it is, I do not rip off from anyone without permission.
I did reverse pyscho with her friend – I smsed her saying that I know who is that "BLOGGER", its your bestfriend Yati. And she admitted that it was Yati The Ugly Midget who is just a farkin customer service officer in KaKi Bukit. I don't like looking down on ppl or their jobs as long as they are nice bunch, not a busybody or hypocrite or as long as they dont behave like this idiot! I got her number and I called this Yati, I screwed her up but she denied. She is the "NEVER SAY DIE" type of person. I fucked her up. She was scared and she didn't know what to say, then she hung up.
Pathetic Idiot, Listen. Please go and look at the farking mirror in ur farking house, take a look at ur farking face and slap yourself while telling this to yourself loudly and to anyone yang kau selalu gossip or yang kau pernah cari pasal – "BIAR MUKA BURUK tapi HATI & PERANGAI TAK BURUK!!!" Eh come on lah, grow up. Kalau kau kawan aku, aku dah lama tampar kau punya muka. Eh tapi takmu lah, kalau aku kenal kau pon, aku tak sanggup nak jadi kan kau kawan aku.. Dengan orang lain, kau n clan kau boleh ah provoke. Tapi hati-hati lah sikit, tak semua orang boleh diamkan dengan kau nye perangai yang macam sial!
And with this entry, I am not afraid to know if my viewership will drop but to those who knows me – they know that I am not a pretender. If I'm unhappy about something anyone, I will be honest to them. Unlike you Miss Equability. Kau gi relek one corner gi fikir apa nak blog pasal aku.. Kau try ah!?
Eh Betina, Listen here and Listen good! Next time do not provoke me or anyone, anytime u wish. U and your bloody clan can farkin go and get a life. You want to sue me?! Haha! GO by all means! I will charge u back for slander. And I got all the prove that it was you. Like I said in your tagboard and I will repeat it again – KAU NAK HEBOH, AKU AJAR KAU APA TU HEBOH. And kalau kau nak charge aku, gi malam ni, takmu tunggu-tunggu lagi. I am waiting. I got good contacts, just bare that in mind. However I am flexible. I will not pursue the matter if you write me an apology letter. Be honest for once. Jadi manusia yang berguna dan yang mulia sikit. Mengaku kat aku yang tu kau dan minta maaf dgn aku. And tak payah explain dengan aku kenapa kau buat benda yang kau dah buat. Aku tak pasal as long as kau be brave and come to me and apologise. I can let the matter rest.
Tapi kalau kau never say die nya orang, masih nak deny and nak gali lobang kubuh kau sendiri, kau heboh kan lebih-lebih. Aku suka lah sial… Jangan lah nak buat password semua kat blog kau! Kau dah malu ke?! You started everything and you don't even have the guts to finish this game. Play your cards right next time.
Like what Frosty mentioned in one of her entries – Sometimes the hardest thing is the easiest thing. So Miss Midget, go and think about what you did.
Another blogskin – for Camelia. I got confused with her names. Go and check your email to upload the template, ok girl.. She asked for pinkish background but I did other colors for her. Haha! In future, I will make a hot pink blogskin for you which will hurt my eyes like how Ayu's blog hurt eyes previously. Next to go is Ayu's blog. I am stuck with ideas. Let me go and get inspirations first. Hahah! Whatever. I am sleepy.
Whatever However Anyhow Anymore Oh No Oh No Oh No – To Ayu and Camelia kita
"ADA PERGI ADA BALIK!!"
Hehe, Just kidding!

P.S: My CASIO Z1000 (10.1 Megapixels) is here with me. Muahahahaha!!! It's here charging!