Did I ever mentioned that I am aiming to get the pillows from Beaufort Hotel – The Sentosa? Yes!!! In fact too many times. I finally got the brand name. Thanks to my sweet dear Teni who called Beaufort and spoke to one of the person in-charge.
I visit their website at Ploh. And I contacted their SG office via email for the rates. I don't care! I am going to get few of them before mid of 2007. They are expensive but definitely much cheaper than Tempur. I can't deny the fact that Tempur is the best. From their featherbeds to their pillows. But it's too expensive and wait till some Dato buy it for me.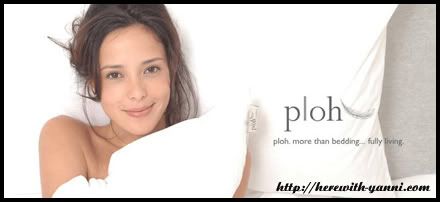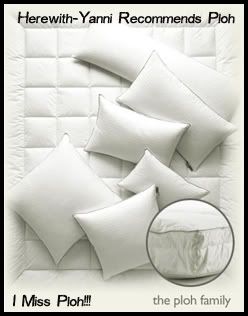 This is what happens when someone like me who is farking sick and tired of her insomnia. I am willing to do anything just to be able to buy that PLOH. Weee!!!
By the way, I am extremely happy and satisfied by my sales achieved for January 2007. 40K! Alhamdulilah. I hope I can make it this quarter.
We have our picture-station located at MRTS and SMRTS. In near future we are having it at retail outlets.
We are holding the promotions at Jurong East, Pasir Ris, Simei, Tampines, Woodlands, Dhoby Ghaut and Orchard stations. But as for cheers, I am concentrating at Orchard Cineleisure as there are where the crowds are.
Currently this promotion is for February (Valentines Day and CNY), we will have other kinds of promotion in March so on and so forth. But generally we want the promoters to be very flexible during weekends, public holidays.
Please do not hesitate to call the Office Manager – Ethel Chynoweth if you have further enquiries.
Digital Picture Station (Singapore) Pte. Ltd.
137 Telok Ayer Street
#08-04/05
Singapore 068602
DID: (65) 6327 4094
Fax: (65) 6327 4091
Jan

29
Posted by Yanni at 10.23PM (0 views)

Enter your password to view comments

Comments
For quite sometime since I last boogie woogie. Heh! Not as hyperactive as before. But yesterday night was ok. Teni seems to enjoy his time at Vintage Pub with the live band songs. At 1.30am, we made our way to Gotham with Jim, Amisha, Nazreen and Fifa. It's been so long since I last went to Gotham. Gotham was the reason why fate brought me and Teni together. Nightlife took few snapshots of me. Then, I claimed my pics in their website 2 years ago, and Teni saw me in their site. The rest is for us to know…
Yesterday, It was Bhangra night and there was a live performance by a Punjabi Group. I got to say that they do it good. The beats were great. The songs were nice too and Teni danced!!! Thank you Jim for making me and Teni happy!!! We love you k.
Give me one more day to revamp my previous theme. Just bare with this outer space electrofied theme for a while more. Alamak! You all cannot wait ah???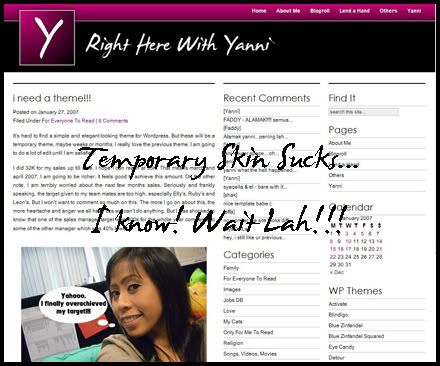 Jan

27
Posted by Yanni at 12.13AM (2 views)

Enter your password to view comments

Comments
Jan

22
Posted by Yanni at 10.36PM (1 views)

Enter your password to view comments

Comments