Goodbye to Month of May! Personally, I feel that May is kind of short and sucks to me. Firstly, I didn't get to hit my sales target. To be honest, a lot of us! Dammit! But I am damn lucky that my pay cheque for this month is WOW! Secondly, all of us kept falling sick. I felt like I am working in Singapore General Hospital instead of JobsDB.Com. Everyone is coughing and down with fever. I hate that sick environment.
There are so many for me to list down all the good and bad that took place this month. But I really hope that June will be a better month for me and to some of you out there who feels that May sucks too. One thing for sure, I am really looking forward for my holiday!
Lastly and the most important thing to me, I still feel like shit for not being able to go to Christina Aguilera's live concert in Singapore. I think I am going to keep my hair long and of course in healthy condition to have that Jet Black Gothic & Vogue haircut like hers in the picture. I changed my mind about curling my hair; I might end up bald if the look doesn't suit me.
So, last night I went to trim my hair & set it for treatment too. It took 2 1/2 hours; it was so tiring that I fall asleep on the chair with the towel and the clips on my head. Hahha! Everyone in the saloon was laughing when I nearly fall off from the chair. One of them commented that I looked like a sleepy cat. Huh! What the hell…
Ok I better stop it before I went on with what happened in the saloon last night. All I know it was so embarrassing. Ceh, I am so selenger!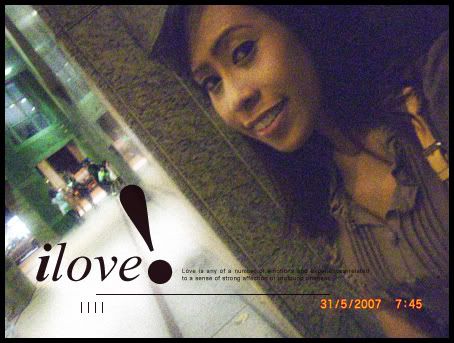 May

30
Posted by Yanni at 11.00PM (1 views)

Enter your password to view comments

Comments
Current Mood:
Sad
2 days ago, I was waiting for Teni at Bugis when suddenly my mobile rang and I almost forgotten who she was. I meant I didn't recognize her voice lah. Both of us have been busy with our lives. We have not met for couple of months. Lots of catching up to do. So, we decided to meet up yesterday night. Both of us realised that we have lost weight. What to do? Both of us have been falling sick. We met at Jurong East MRT Station and took a train ride to town. The moment we meet, we did not stop talking. There were so much to complain & share. Of course, for us to know and for you to find out. But don't bother finding out lah.
Current Mood:
Confused
Shout-Out: I love my new theme!!! Christina Aguilera, my favourite idol but you sucks cos you do the concert on 30 June, Live in Singapore, without me! You dirty bitch! Thanks to Shah for the hot theme!!! I really owe you and Carine A LOT! For those who have been asking me about my domain and hosting plan, Go and sign up for his domain & hosting plan! I might want to switch to his too when my contract finish in August. Shah, you have all my support. And Yes, you are my most-favourite blogger too!
Sha, I must admit that I really got sick and tired facing you at our office everyday & the Train Ride Home everyday. But when you are not around, I will tend to miss you and feel lonely. But If you appear the next day at the office, I will get sick looking at your face again. How??? We should do something about this!
Ok, this is for you. I hope you like it. I spent my Saturday doing it. As usual give me a treat! Tell me whichever part you want me to edit, I will do it for you. Just for you again and of course, double treat for that!
On another note, I wish you all the best and pray for you & your unborn child's health. Alhamdulilah, you rarely smoke nowadays. I think you should really consider quitting. 100% quit! Listen to my advices or you will hear me nagging everyday. Please don't freak me out with your mood swings during your pregnancy. I will surely whack you, kick your pc, throw the tissue box at your face. I really love you ok. Despites of all our constant bickering and the small misunderstanding. But trust me, your mouth like makcik tingkap. Hahaha!!!
Her blog personality may be low-profile (cos the fact is she is super lazy!), but I tell you her mouth farking laser too. She is petite but her voice, omg, she is LOUD like me too! That's why lah we both always kena aim only. Hahaha!!!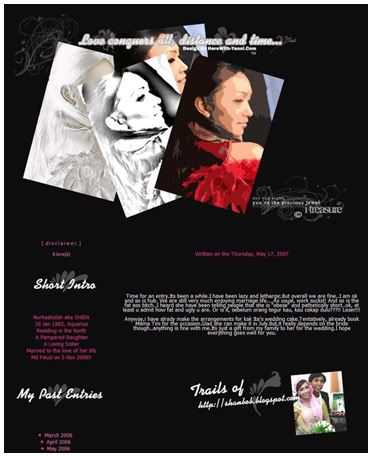 Shout-Out: Short hilarious song at the end of entry.
"The only difference about my blog and your blog is, my readers don't leave comments anonymously. Out of sudden, you got malas. Well, me no. I am very rajin and free… As usual, I want to be like you. The usual 6-10 page per entry."
I may sound or look childish to you with all my laser-mouth-biadab entries, I know. You think I care about what you and the girls + the extra roaring woman had commented? You think I care how you all feel? You really think I got affected by those comments from those anonymous creatures? Not a wee bit lah bitch.
(Ah, kalau korang nak tahu, aku lah orang yang paling tak tahu malu sekali. Aku lah orang yang tak peduli dengan apa orang nak fikir atau rasa kalau korang dah macam perangai suar! Like what can you do about it huh)
My entries and my choice of words for you were all for the sake of laughter and fun time. To be exact, those sarcastic words or vulgarities which I hurled at you and your bitches were just to agitate you my dear girlie's. You girls had your fun hurling, accusing, framing and giggling all this years. But did you all for once think by doing so will invite some good coming? If not, it is all rather moot, isn't it? Now back to ya! I'd appreciate it if you were to please refrain from doing what you're doing for years because it only generates undue and ugly repercussions for all of us. And again back to ya!
You find it rather tedious and tiring. (Biasalah, long flights katakan, by the time nak retaliate, confirm lah penat). Well, I did my part by writing back to you, privately as requested. But when I saw a new entry with new sets of comments dissing DH again & again, you don't deserve any of my kindness cos I can no longer compromise my human dignity like this. And neither should you. Now back to ya – again!

Good News. I got myself a new job last 2 days. But I think I wanna resign cos It's damn tiring and hectic. And by the way, this is not a paid job for god sake. Someone from Dubai offer me this job. Like hello, someone from Dubai sia, offer me to become her partner. I should be honored right? Without hesitating, I accepted her offer and started yesterday. I really envy her, she is so damn passionate with her job. A dedicated woman from Dubai. She have been working like almost 4 years. I think so, let me double confirm with her again.
What kind of farking Job is that? Well, enclosed below are the specifications.
MUKA SAMPAN.CO PTE LTD is currently expanding and we are looking for hot & pretty girls (please take note that candidates must not be sampan-looking face as not to override the original muka sampan face) to join us as a:

To the most pathetic anonymous/cannotkalahdiana.com – the split personality of this blogger who loves to blog '6-10 page per entry' and loves giving comments to her own entries pretending as if she kena possess by some few anonymous whores.
"Excuse me, what's up with you mentioning this url link?" http://dianahairul.blogspot.com

You got any problem with her?
Don't push it, I'm telling you.
@ 52 790
Let's spread the word and our love around the world. I found it while reading Sri's blog.

Sha.tc, the only Malay-Singaporean guy I know who really work his way up. Come on you all, don't be lazy or racist or jealous, please vote for him. I voted for him using my NRIC, my Bro's, Mom's, Dad's and Teni's NRIC. (Yes I can remember their NRIC number) Hopefully that will help him win the MacBook to replace his 4 year old PC.
TO VOTE – http://www.sha.tc/vote.html.