I will be away from 29th June and will be back on 2nd/ 3rd July. Shah will help me to manage this "lame" blog on my behalf (Did I ever say its a fun rock my socks amazing blog before, this blog is so full of anger how can it be fun – eh my Hantu Tetek – try harder lah you farkin childish!). I know my blog is in good hands. Yes, I trust him. I owe you a lot, Shah. Thank you very much. I really appreciate it.
Yanni proudly present the launching of ArmChair Critic – 27 June 07.

I am the type of person whom you find it hard to please. Neither do I like pleasing people around me. Don't try to please for the sake of pleasing me when you don't mean it. I don't please you for any rhyme or reason. Thus, you don't have to worry.
I hold on to words seriously but I judge you by how you handle your stuffs and the people around you because seeing is more powerful than hearing. To me at least.
I don't take advantage of people. Therefore I hate it when you take advantage of me. So stop it before I lose it.
Even though, I dislike girlish talking. It is fine with me as long as you don't overdo it.
Thanks to Dayana, a colleague of mine. Shida & I learnt something new last week.

Finally did the blogskin for Nana – Virginista. Sorry to keep you waiting. Other than my bestfriend Shida, You are the other best person to work with. Cos you are not choosy and demanding. Hope you like it!
I love my new ring which I bought from Jim at a very special price. Thanks Jim! Yup, they sell precious gemstones and diamonds. Their price is cheaper & affordable than those you see at the retail outlets. Their items have good quality and they are certified. Jim is a gemologist. Anyway, Jim is assisting his dad's business. They have been in this line for years, I think decades! They bought the items from other countries. And they are doing well. As for Teni, he is still learning the steps and wants to gain more experience in this line. However as and when he got client who wants to buy from him, half of the profit will be given to him. I wish Jim and Teni all the best for their dreams. I know you both can make it one day.
If one day, our relationship is not meant to be, both of you will always have my support. Ok, Yanni stop it, you are getting emo. You talk as if there is nobody who wants you. Better what! I can have a new boyfriend and you can have a new girlfriend. Let's keep changing partner until we die. You go and find a paki girlfriend, i go and find one malay boyfriend. Then we change partner again. Ok stop it. stop it. Yanni loves uttering nonsense. (This is pms or what!)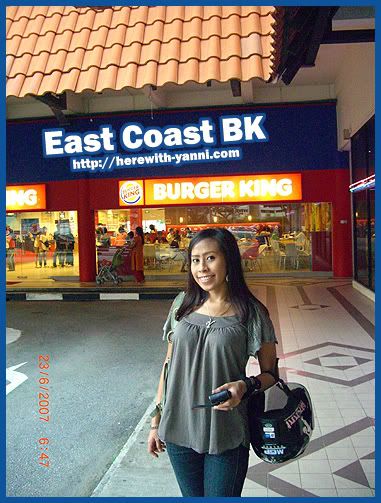 Remember my entry on Animal Fur Trade as a guest blogger at http://sha.tc. I will be lying if I said it doesn't affect me. I couldn't deny the fact that the barbaric images keeps flashing in my head ever since I decided to write about this at shah's blog. I felt like I was a failure to all those animals. I couldn't do much to save them from all the cruelty. I am aware that many people do not feel the way I do. I am aware that there are people who loves animals does not really feel how I felt towards animals that were severely abused and killed. I am the crazy animal lover. If possible, I want to work for SPCA but I know I can't bare myself seeing the animals being put to sleep. If can I want to apply for a job in Mandai Zoo, so I can spend my time with the animals rather than face some human beings at my workplace.
Everyday I come back home from work, I will always greet my lovely cats, and my heart never fails to remind me that millions of animals being killed inhumanely every single day in this world. Sometime I just wished that animals can protect themselves by turning into an alien/ devil whenever the barbarians want to kill them. For sure, the barbarians will run for their life and never want to do such job for a living.
"IF I COULD MAKE EVERYONE IN THE WORLD SEE ONE FILM, I'D MAKE THEM SEE EARTHLINGS."
- Peter Singer, author Animal Liberation
Who's to blame if not us, humans?! It's the idiots who are high maintenance, filthy rich, extremely materialistic, who demand for these items that force other humans to kill and sell and make money. Then when the high end fashion labels + fagot designers earn the money, they become greedy and come up with new designs and ideas on how they can make more money by practicing fur trade! Ninabei phua cheebye, hong kan! Farklah, each time I talk about this, my blood will go up the farking stairs at the malaysia batu caves lah! The whole process sucks. To be ashamed, it's humans encouraging other humans to kill the animals. If only the animal has a machine gun, atomic bomb as a hand, you all die and blast into dust!

Click the image below

To be honest, I am really quite sick and tired of some blogs. I need some new interesting blogs for daily reads. To blog hop, either I don't have the time or don't have the mood yet. So, please recommend me some new blogs that's worth readings. It doesn't matter whether the blog is emo, lovey dovey, drama mama, bragging to you. At times, we need these kind of stuffs to spice up our life. Some things for us to laugh at. Don't be lazy to recommend me some blogs ok. Leave me a comment or email the links to me. Let me read it and judge it myself, and decide to add it in my blog roll for daily reads.
To those who requested from me to do blogskins for them, I really apologise for the delay. I received a lot of emails that I totally forgot the old emails. Thanks to the lazy mood I got this weekend, I decided to stay home and screen through my inbox.

Guys & Girls, please email me all the photos at yanni1107@hotmail.com and please don't post any ugly photos. Hahah!
I really hope that each of you is now in love with Sri Bistari – Nasi Ayam Penyet. Delicious right! The sambal is super nice. The chicken is so crispy and tender. Their service is good and fast too! There is no other nasi ayam penyet that I am crazy for other than Sri Bistari's. I swear!!!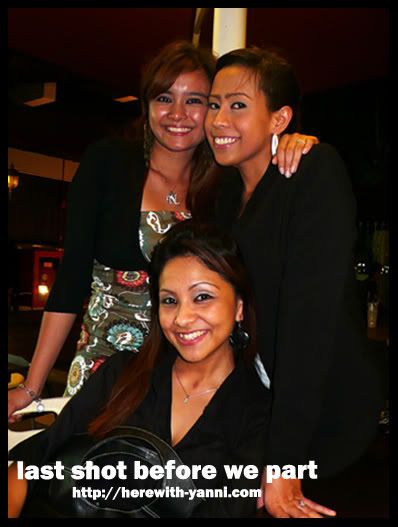 To all of you, who turned up for the dinner, please don't thank me. Just write a review on Sri Bistari in return. I am sure the owner and the staffs will be delighted and pleased. Honest Review ok! Lastly, thank you for coming!!! Let's do it again soon ok!
Shaz & Aidil has done their review. Thanks ya!!!
Drubilee-Nadia Cheong – i like your review, but please ah take out that candid moment, tu buruk seh. ahahha!!
Dahlinar – oh no why that pole picture…
Shida – short & simple review.
Nadya – review done too!
Edroos – review done!
Faddy – at last her review is up!
Shikin – her lambat setapak review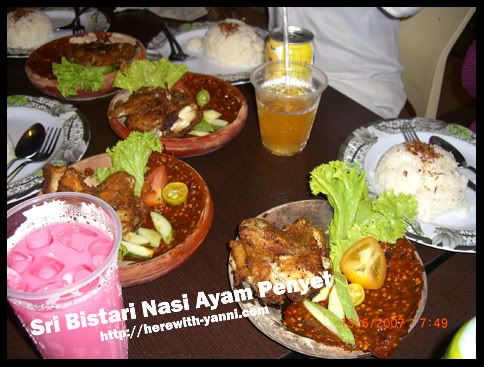 P.S: Dinner At Sri Bistari Tonight! Should be 12 of us, Woohoo! Nasi Ayam Penyet, Here I Come!!!
I used to feed this cat; which I call him Mok-Mok (Fatty). He is always roaming around our area. But now he's gone. A car and a truck knocked him down. I was screaming and hurling vulgarities at the driver. I really didn't know what to do. I was with Teni and he didn't know what to do either. We were on our way for dinner. But that incident made us loss our appetite.
I was feeling really devastated looking at Fatty lying down on the middle of the road with a pool of blood, kicking its legs trying to survive, with his eyeballs popping out at the same time.

Nadya, hope you like it. See you on Wednesday!