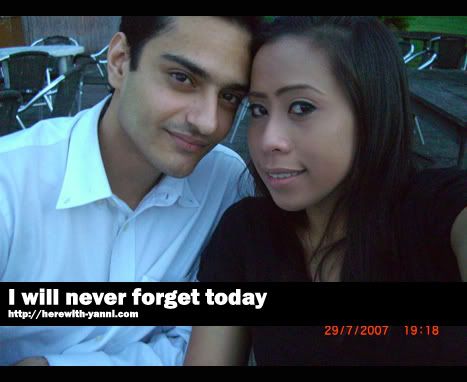 I am glad that we managed to talk things out. Now we are able to understand each other feelings. The good thing is we have some future planning. It's not going to be easy. But faith and patience will keep us going. Teni, I love you. I was afraid, I worried too much that I neglected you and wasn't aware of how you felt for the past few weeks. I am sorry Teni.
Shida's cousin – Kak Ita got hitched today! Shida and I were happy for her that the wedding decorations, food and etc turned out to be nice & beautiful.
I think July is a hot month for me. Not because it's my birthday which had passed 2 weeks ago. It was hot cos there are more than 10 idiots who pissed me off and turned me off to the max! Yesterday there were 3 idiots who turned me off. 1 of them turned me off early morning while I was rushing to work, waiting for a cab. The story goes like this…
I woke up late as usual. I rushed and waited for a bloody cab or a bloody sbs 811 bus to turn up! While waiting with grumpy face, I heard someone calling me as if I am a bird! I don't what's the actual word for it but let me describe to you. I am sure that you all know only MATS & MINAHREPS, AH LIANS & AH BENGS, The Mamas and their black chix who loves to gendang the table like tabla under the void decks like as if it's a bhangra night; they all love to 'swit' at people when they want to call somebody. With their lips, they 'feewitt' or 'suuweet' here and there. Ok whatever lah! But I hope you all get what I am trying to describe. Hahaha! It's the wolf call lah. Back to my story.
Someone 'swit' at me, I am damn particular when comes to this, especially in the morning behaving like Kanina! I was about to turn my head and show a middle finger at that someone. Then I am shocked to see my ex schoolmate whom I ever quarrelled when I was 17. Ok so he is the idiot who 'swit' at me and the idiot name is Razak.
Idiot: Eh Hi, you still live this area? You remember me or not?
Me: Yes I do remember you. *Forced Smile*

Idiot: You going to work?

Fezah requested from me to do a blog skin for her, and she wants something like Nadya's second blog skin which I did for her previously. She wants the theme to be hotpink and she doesn't mind using the same design too. Good thing, she really doesn't mind waiting. To be honest, she requested from 1 1/2 months ago. Sorry ya to keep you waiting. At last, I managed to do it for you. A bit different than Nadya's one. And I hope you like it. I was tired and I got no mood today as 28 July 07 is just nearby. Don't ask me why. I am just pissed about many things which happened lately. Farking pissed that I don't even bother talking about it to anyone. Farking pissed about my life that I want to give up! I got to give it up! Eh, this entry is about blog skin not about my anger. Oh ya! I forgot. Lost control lah. Hahah!!!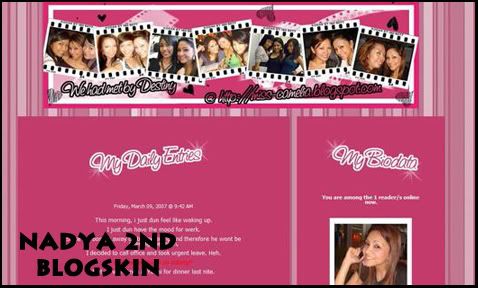 And due to some bad experiences and treatments I got from some humans (as If I farking owe them), I will not reply (unless I want to and I feel like to) to any requests on doing blog skins for them. Some only start to appear when they need my help on blog skin. I don't expect anything in return. Really. It's not me. But eh fark, I never charge any single cent. So don't be too much. Ok Whatever. Therefore, I will start to pick those requests which I feel like doing (But don't be afraid or hesitate to send your request lah… try your luck ok). I am not a bloody expert lah. I never think I am too. But don't get on my nerves. Especially at this point of my life when I get irritated and angry easily. I am angry with few people and I am angry with a lot of things. I never show cos I don't like people to question me and I don't like sharing my whole life stories. Its useless to me even after sharing. I don't feel at ease and it seems to me that people don't offer solutions but simply judge and give remarks which are not helping me at all. Neither I find it necessary to share so much cos humans love to judge, comment and assume cos it's the easiest thing to do instead of providing solutions. The humans who are not humans actually will end up using it against us one day. And should any bastards do that to me, I will haunt your life moron.

OMG!!! What a night spent with Shida, Dayana & Ida. Last night, we decided to have Sushi for our dinner. The 3 of us except for Shida were like from don't know which village. Hahah! From Sri Lanka to Singapore trying Japanese Food. No lah, actually Shida was blur too. Sakae Sushi rules & regulations about Ala Carte & Buffet Meal are damn complicated and we don't wish to waste more $. We spent half an hour deciding what to order. We don't know 99% of the food there! We don't know the names of the food and what is it inside except for EBI which is prawn.
I asked the waitress what is Fried Maki. She simply repeats after me and show the menu, telling me it's Fried Maki. DUH!!! You mean I don't know how to read the menu. I am asking her what is it, and she's telling me that its Fried Maki is a Fried Maki. WTF! I know lah Fried Maki, but what is it inside. And the waitress told me something like Fried Sushi. Ok I gave up!
Then I asked her If I order Ala Carte, can I order the side dishes like these few (I showed her the page). And she said – NO, You can't! I asked her why not, I am paying for it. She told me, it's only for Buffet Meal. You are ordering Ala-Carte; you can't order anything from the Buffet Meal. And I went like huh! It's stated as $1.90 each, why can't I order it? I just want one of this only. She insisted NO! You can't!
Eh WTF! They should have just state at some of the pages – "NOT SOLD SEPERATELY! ONLY FOR BUFFET MEAL!" It's very frustrating talking to the staffs. They don't even know how to describe Tempura and Otate. Ok maybe I am just ignorant and stupid when comes to Japanese Food. But first time what! Cannot blame lah! All the waitress simply read the name of the dishes instead of telling us what is inside each sushi which we asked! As if we don't know how to read.
I ended up with 2 to 3 spoonfuls of my Ala Carte Dish and watched Shida eating and enjoying every bit of the Sushi which she took from the Buffet Bar. Nabei! As soon as we left the place, I went to buy 2 croissants from Delifrance. Ceh! So embarrassing! We kept laughing at each other stupid faces. We kept debating with each other and came out with few suggestions on how they should do their promotions. Hahaha!
A Lesson To Learn – Don't be yaya!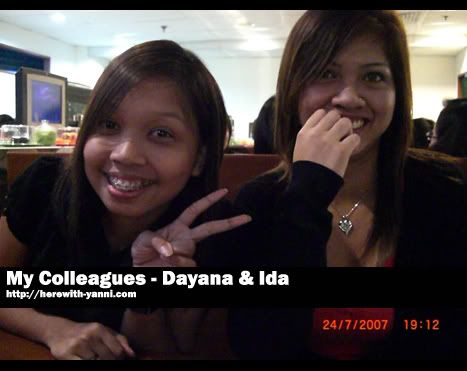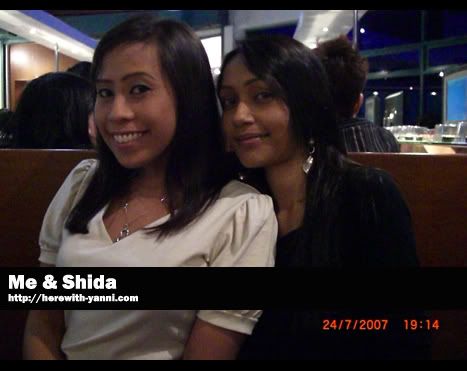 IKEA is a very nice place to shop. I love the items at IKEA. I will go crazy like a kiasu lady thinking that my house is a semi-detached bungalow!!! IKEA is dusty too. Now I am feeling sick. I kept sneezing in that place until I got irritated and decided to stop our shopping spree. It's so big and complicated. We were lost and couldn't find the lift, until one cute guy was kind enough to push the trolley for us and lead the way.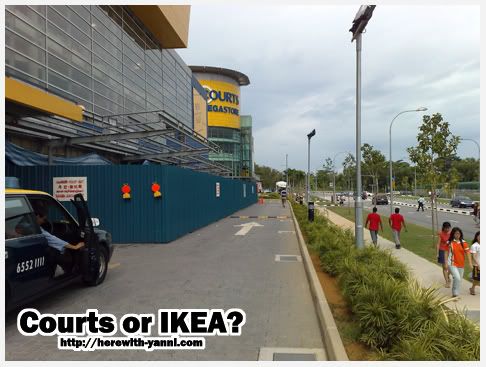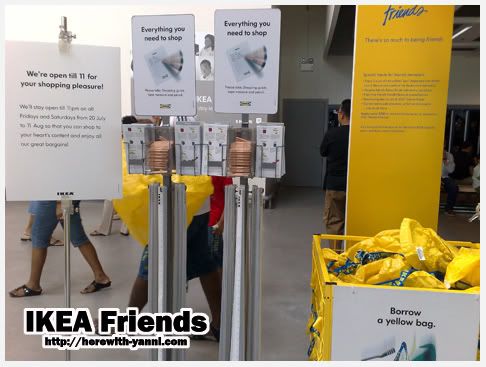 I am not looking forward for 28 July. I wonder why is it tough and unfair. I don't deserve this. I really don't. I deserve better than this. If that happens, I will hate you and the rest more than ever and probably my whole life time. Thank you for letting me feel this way again and again. I know it will be a never ending one. If that happen on 28 July, then you are Such a bastard! Such a bitch! I hope someday you will feel how I'm feeling. You will cry and won't be able to forget me for the rest of your life – haunted with guilt. You know I don't deserve this!
What the hell! Naah nothing, it's just a message I kept long long ago. Deja vu.

http://lickthefrosting.wordpress.com – I can never get enough looking at her yummylicious bakeries!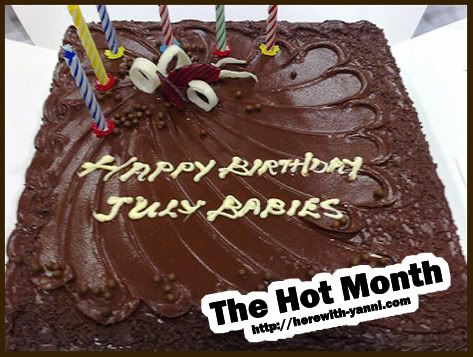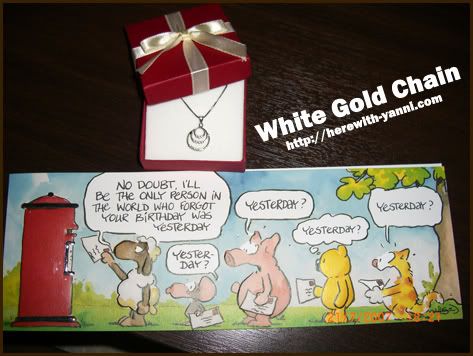 Watch more videos at KentuckyFriedCruelty.com.
KFC suppliers cram birds into huge waste-filled factories, breed and drug them to grow so large that they can't even walk, and often break their wings and legs. At slaughter, the birds' throats are slit and they are dropped into tanks of scalding-hot water—often while they are still conscious. It would be illegal for KFC to abuse dogs, cats, pigs, or cows in these ways.

KFC's own animal welfare advisors have asked the company to take steps to eliminate these abuses, but KFC refuses to do so. Many advisors have now resigned in frustration.

Please join Pamela Anderson, Sir Paul McCartney, His Holiness the Dalai Lama, The Rev. Al Sharpton, and countless other kind people worldwide by not eating at KFC.

Extracted from Kakii
I swear if I found out more animal abuse in this world especially in my own country, I will not hesitate to become a vegetarian. I really want to know how Fast Food Chain in Singapore treats the animals. From where they get the food supply? Who is their Food Supplier? Where is it? I swear I will want to visit and witness it myself.
Anyway the chickens and the other food in KFC Singapore suck! Why I said so? And how I wish the SPCA in Singapore or the welfare for animals in singapore are just like the US! They are 100 times more caring, devoted and serious about it!
- Fats can be found in their O.R Fillet burger. No wonder it's cheap! The burger meat got fats around it!
- Too many fats in their friend chickens. The sight of the fats are so damn gross.
- Their fries suck. Try leaving the fries for 10 minutes, it will turn hard and yuck!
- Their coleslaw sucks, it's smelly and it's not fresh!
- Their outlets got one kind of smell. I hate the smell! Smelly KFC!
- They don't serve mayonnaise, they charged 50 cents for one small plastic container or whatever shit they call that thing is lah!
Eh come on lah, who the hell wants to eat that amount of mayonnaise! Mad or What! You charged 50 cents for that! What The Fuck! Why so stingy?! Budget! So rich what! And when you give me in that kind of serving which is damn a lot, who can finish it? Do something about it lah KFC! At least mcdonald's and burger king serve mayonnaise and its in a small packet which is more than enough. I even debate with the manager, telling them to give like 10 cents or 20 cents serving of mayonnaise but I will pay 50 cents. They said no! I am helping them to save mayonnaise and earn more, they say NO to me.
(Gila eh? Terbiat nak mampos eh! Oh kirakan suruh aku and kawan aku lantak tu mayonnaise dengan makanan-makanan kita ah! Aku tenyeh kat muka/ mulut boss korang baru tahu!)