Remember my entry on Chicken Abuse at USA? Because of that fark cruel video, I quit eating chicken. Each time I tried convincing myself that I should not punish myself not to eat chicken and sacrifice my love for eating chicken, I will became paranoid and the the images of chicken got abused keeps playing on my head. Really? I swear!
I wrote that entry on the 21st July. Aiyah – here is the url link KFC. Almost 3 months, I dare not touch or eat chickens. My boyfriend was mad at me and said I was stupid to punish myself because of their bad doings. My family except my dad was mad at me. My friends and colleagues call me MAD WOMAN. But how right? I really can't bring myself to eat it. The first month was worst; I don't even want to eat eggs. Anything to do with chicken, I simply reject it. I rejected Pizza, I rejected Chicken Nuggets, Popcorn Chicken, Long John Silver's Chicken Meal, Ayam Masak Merah, Kari Ayam… They were my entire favourite. But guess what happen last night?
I went to woodlands bazaar with my boyfriend. He bought the chicken kebab and I quickly ate it with a blank mind. And hahahah!!! I finally eat chicken. I told mom this morning. She asked me whether did I vomit. I said I did not. And she said, wah at last I can cook chicken again... Yabadabadoo… Hari Raya, mom is cooking Ayam Masak Merah, Sambal Goreng Udang, Longtong, Rendang Daging. I am going to eat like pig! I think I will gain 1 or 2 kilos the first week. But I promise to lose the kilos in 2 weeks. Easy! Just don't eat lah!!! Hahah!!!
Time flies really fast, I just celebrated Hari Raya and now I am celebrating it again!!! And soon next year I am turning 25 years old.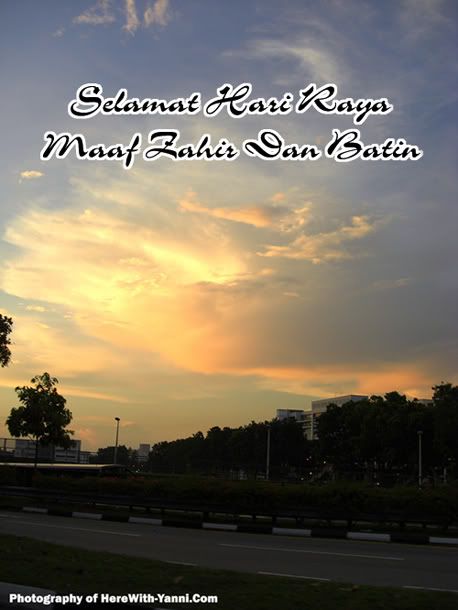 Nanti aku buat salah lagi, next year aku minta maaf lagi ok.
Muahahahah!!!