For all the good things in 2007, they shall be remembered always. For all the bad things in 2007, please go and don't come again. I love 2007 and to all friends, blog mates and of course my beloved ones, make me love 2008, as in more ok! Wishing you all the best in this coming new year 2008.
In 2008
- Either have a good working environment or I will strive to get a better one
- Quit Smoking lah yanni....
- Go for a long holiday before my 2nd semester, Australia or Thailand
- New blog theme which is currently stuck so it will give me the mood to blog again as I am getting lazier
- New Nikkor lens (currently aiming for 2 of them, superb one!)
- Happy (Happier I mean) home n healthy cats
- More sales for GemByGems (Thank u for the support y'all have given this year!)
- I shall not disclose this one
- For me and god to know
- Stay away from _ fill in the blanks ----- _ & meet _ what what what what! _
- Car license
- Less problems than 2007 (2007 problems are definitely lesser than 2006)
- No PMS Mood (How I Wish!)
- Shopping every month
- Pass all modules
- Cat House (hmmm...) or Donate some $ to the unfortunate ones (yes sure!)
Give it to me you people! I mean the lens, the holiday… Muahaha!
It's really bad when someone don't even bother to think twice before creating pathetic stories. To think that person is older than us. To think that I used to look up to that person. I couldn't believe my ears. Saying things, telling lies just to prove to everyone that you were cheated and betrayed. In the first place, he don't own you a living.
You mean you don't feel guilty at all? You mean you have such a low character? So it's right to do what you have been doing?
Continue doing whatever you are good at. That's all I can think about when it comes to you now. There's limit to everyone's tolerance and don't go too far, I'm telling you.
I won't go any further cos If I do…
Oh Whatever….

P.S: April will be my next holiday. My break before the new semester. Australia or Thailand?
The weather was kind to us. We finally met after 2 weeks. But… he looked very sick. He is not feeling well. I'm sorry Teni. Luck wasn't on our side too. This time was his bike. I think it's the battery or the plug is spoil. No signal light, the speedometer light went off, cannot horn, no back light. Fark! Then how the hell is he going home. Ate dinner and I asked him to go home by cab. He said I was crazy. Huh. Tell me, was I being crazy or is he the crazy one? Not feeling well, something went wrong with his bike and he refuse to take a cab home. I hope nothing will happen to him. I already miss him, 1 hour is definitely not enough to make up 2 weeks. I will be busy for the next few days at work & school. How I wish I can be a kid again. No responsibilities. No worries.
Let me pray for his safety now… More updates on his site next week.
On another note, I can't wait to get out of that place. Really… A lot of things happening and I have been silent all this while. Each time it happens, I kept quiet and kept taking it. What's the use of protesting? It won't change the situation there and will never. All I know that it is time. Will wait for that very moment. Only god knows how bad it is for me and her. I hope time will fly even faster for me in 2008. 25 years old next year. Sigh…
What A Girl Wants!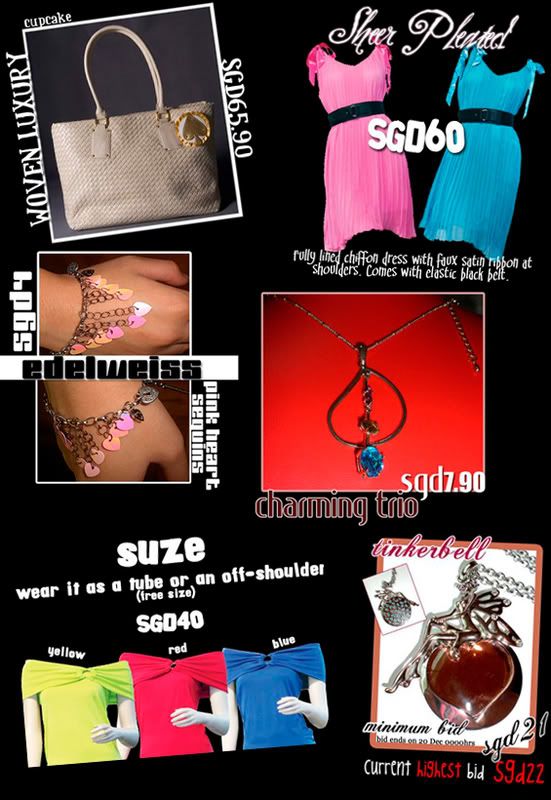 Where To Get Them???
Having promotions till 26 December 2007. Visit them at http://eightyninety.blogspot.com.
See, I told you it's impressive. They put in effort! So give them your support.
Something impressive coming up tomorrow. Stay tune for more. A new blog launch by 2 creative sisters.
Lots of things in my head, hands, feets, etc. Arrgh! I am going crazy. I think I am already crazy. It's just about time I need to see a psychiatrist. I will be very busy and I am sorry for turning down some of your requests to create a new blogskins. How about in April? After my exams? If you can wait lah…
Currently, 5 cats of mine are not feeling well. I sent them to the vet and guess how much it costs me. S$600 balls! Ripping me off you know this cats. Thank you very much cutie pies. Lucky all of you are cute and it's only once a while thingy. I love you all.

Baby, don't you cry. Gonna make a pie.
Gonna make a pie with a heart in the middle.

Baby, don't be

blue. Gonna make for you.
Gonna make a pie with a heart in the middle.

Gonna be a pie from heave above.
Gonna be filled with strawberry love.

Baby, don't you cry. Gonna make pie.
Hold you forever in the middle of my heart.

Baby, here's the sun. Baby, here's the sky.
Baby, I'm the light & I'm your Shelter.

Baby, you're mine. I could freeze the time.
Keep you in my kitchen with me forever.

Gonna make the pie from heaven above.
Gonna be filled with strawberry love.

Baby, don't you cry. Gonna make pie.
Hold you forever in the middle of my heart.
TAKMU MACAM BETUL LAH…

Please go for anger management course cos you seriously need it.

GRRRRRRRRR…… HAHAHA!!!

Dec

8
Posted by Yanni at 3.09AM (0 views)

Enter your password to view comments

Comments
Baik Ah In English : Keep it up man!!! Please do more, I like it lah sia. (In the most sarcastic way with my agitated face)
Recently, it was Shah's blog who got demoted from Page Rank 4 to Page Rank 0.
I never do anything what! Some other bloggers do 'that thing' which harms your organisation or whatever lah like everyday, like crazy. Go and demote their blog lah. Why mine sia? Now, I know how it feels when those famous blogger's blog got demoted. Ni lah rasa yang aku tengah rasa…
Or is it because of the SEO? It's suppose to be positive not negative what. Ok whatever… Now, how am I going to explain to some people if they want to advertise at my blog? Will it affect? But lucky I still have my True Awstats from my cpanel account. You can trust these stats.
Click For Larger Image
But not this, I think so. Hahah! I got no idea why I still put that up. Haha, maybe to beautify it… Maybe Maybe.