I am Yanni Ma'at [a.k.a Siti, Rohani, Ani and I never like ppl calling me Hani], a Muslim Singaporean girl in my late 20s. I believe in humanity & animal rights.
Born in the month of July the 15th 1983, Cancerian. A Bad Tempered – Soft Hearted person. My mood changes 4 times a day, sounds scary but I'm just kidding. I hate calculative and a miser. A good listener who never fails to offer advises if I can afford to.
I will never go out from my house without any eyeliner, lip balm and handphone.
Profession
I sit in Reed Finance (Reed Specialist Recruitment) division as a Senior Finance Specialist Recruiter for Mid to Senior Level within commercial & industry. My core sector practices are Consumer (FMCG/ Retail/ Consumer Electronics), Pharmaceutical/Life Science/ Medical Devices & Healthcare and Information Technology & Telecommunication.
I have more than 12 years sales working experience – 8 years of which is in corporate sales and recruitment. I maintain a strong pool of passive candidates within these industries and I am well known for her efficiency and timeliness in responding to clients needs.
Achievements:
Yanni has achieved much success in her career to date and has won numerous awards for her high level of performance including 'Asia Consultant of Quarter' in late 2008, 'Top Personal Best Biller' in 2009 & early 2010, 'Rising Star Award – Top Rookie for P1 to P9 FY2010 (In recognition of achieving the highest billings across Asia Pacific as a newcomer to the business) and was in the Top 25 Billing Consultant in FY 2010 – 2011 within Asia Pacific and MENA in Reed Specialist Recruitment.
My LinkedIn Profile – http://sg.linkedin.com/in/yannimaat
I am also a Marketing Director for Gem By Gems.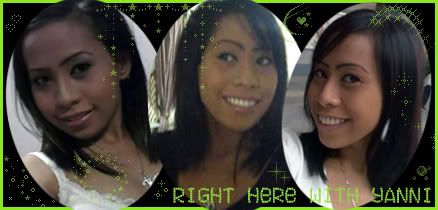 A Lil' Bit of "The Real Old Me"
Had a bad fall in 2004 and did silly foolish mistakes back then, everyone has their darkest moment.. With the love, support & encouragement from my mom & my very own true friend who I am very much in love with; Tanweer Hussain (Teni), I managed to stand up tall. I am blessed to have them and I feel proud and complete. I met Teni in 2005 and till today, we are still very much in love with each other. He is one in a million, a gem of human being, genuine, kind hearted & a loving man but can be very annoying. We had our ups and downs, every couple has to go through that phase. But I thank Allah for all he has given me. I am really contented with my life. Judge Me, Misunderstood me, I simply don't care – seriously. Allah knows best.
Last but not least, Thank you all for reading.
Edited 20 Nov 2011